Super Compost 8 lb. Bag Planting Mix, Plant Food, Soil Amendment
A Specially Formulated blend of Composted Beef Cow Manure and Alfalfa with Certified Organic Worm Castings.
Higher Yields, Larger, Tastier Vegetables, Larger, more Colorful Flowers.
Concentrated Strength; 8 Lbs. makes 40 Lbs.
Odorless & Safe around People, Pets, Wildlife & the Environment.
Bee & Butterfly Friendly
A special blend of worm castings, composted beef cow manure and alfalfa.
2-2-2 NPK plus Calcium, Iron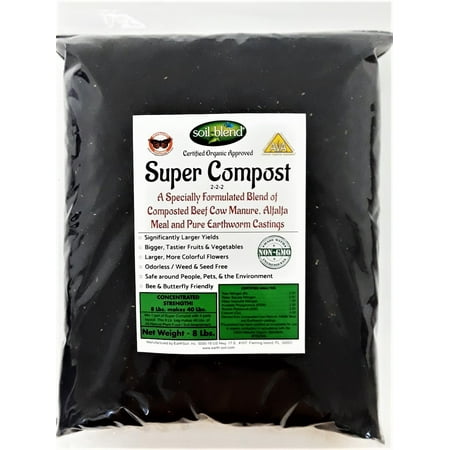 Super Compost 8 Lb. Bag makes 40 Lbs. Organic Fertilizer, Planting Mix, Plant Food, Soil Amendment. A Special Blend of Worm Castings, Composted Beef Cow Manure & Alfalfa 2-2-2 NPK + Calcium, Iron.
Buy Now
Walmart.com
as of October 13, 2020 3:42 am
Soil Blend Super Compost 2-2-2 is a Specially Formulated blend of Certified Organic Composted Beef Steer Manure & Certified Organic Alfalfa blended with Pure, Certified Organic Earthworm Castings. NPK of 2-2-2 Plus Calcium, Iron, Magnesium and Sulfur. Also contains Triacontinol, a very potent...